Neck Pain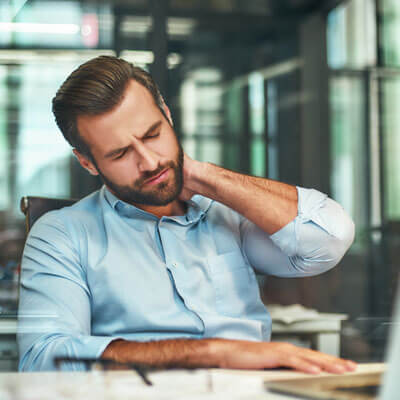 Unsurprisingly, neck pain is one of the most common complaints we see at Newstead Chiropractic. Given the time people spend at their workstations or on their digital devices at home, it's no wonder that many experience this type of discomfort.
Symptoms
Here are the common symptoms of neck discomfort:
Muscle tightness and spasms
A decreased ability to move your head
Headache
Common Causes
Because your neck is flexible and supports the weight of your head, it can be prone to injuries and conditions that result in pain and restricted motion. Here are some of the most common causes of neck discomfort: muscle strains, worn joints, nerve compression, and injuries.
Frequently Asked Questions
How will you address my neck pain?
Dr O'Brien (Chiropractor) may use different techniques: Sacro Occipital Technique® (SOT), Torque Release Technique, and Advanced Biostructural Correction (ABC).
What other things can I do to get relief?
We recommend you adopt proper posture, avoid looking down at your smartphone or tablet, sleep in a proper position, and set up your office to be ergonomically friendly. Offer ways you could alleviate your pain, including using supplements and wellness products like pillows, which we offer at the practice. These complement chiropractic care.
Book an Appointment
If you have neck discomfort, we want to help you get the relief you need. Contact Newstead Chiropractic today to schedule an appointment.
Call Now Book Online

Neck Pain at Newstead Chiropractic | 0424 663 486